South Dakota Community Foundation Presents Hometown Hero Award to Abbott House
– By #Abbott House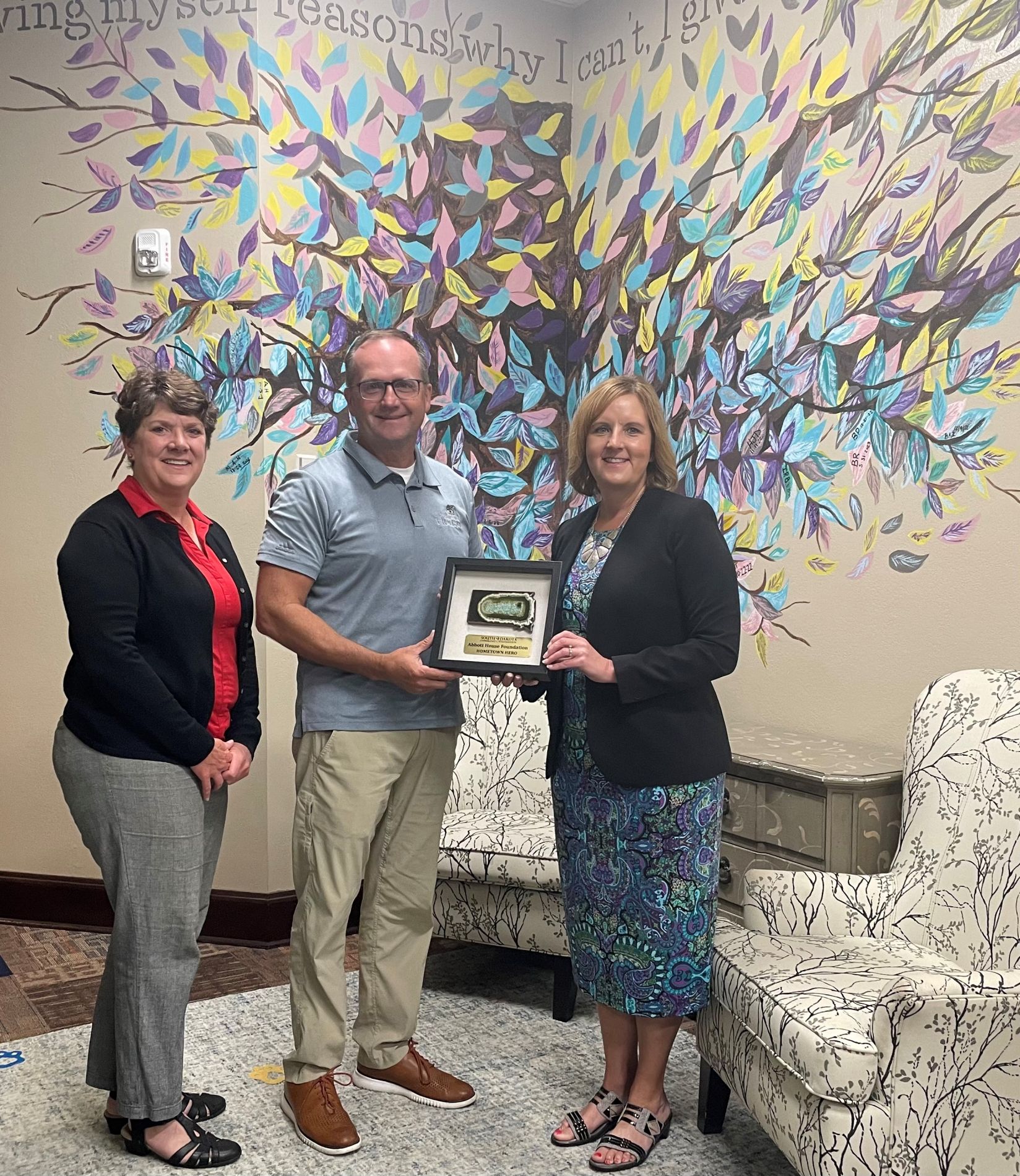 Mitchell, SD – The Hometown Hero Award is presented to South Dakota businesses and individuals who support and advocate for their neighbors and communities. On June 20, 2023, Stephanie Judson, the South Dakota Community Foundation (SDCF) President and Chief Executive Officer, presented the Hometown Hero Award to Abbott House. Eric Klooz, Abbott House Executive Director, and Virginia Wishard Lambert, the Abbott House Director of Development, accepted the award in front of the tree mural inside the Abbott House PRTF building. "This is our story," Klooz said in reference to the mural, "our kids sign a leaf when they finish their program with us. Each signed leaf is a different child, a different story."
For over 80 years, Abbott House has been creating a safe place for children who have endured trauma to heal. The children in their care receive individualized therapy, year-round education, and a network of supportive staff. Abbott House has several programs, including a psychiatric residential facility (PRTF), Bridges Therapeutic Foster Homes, and the Independent Living Program (ILP). While the PRTF building, located in Mitchell, SD, is girls-only, Abbott House has expanded their ILP and foster home programs to include boys, as well. These therapeutic foster homes and ILP apartments can be found in both Mitchell and Rapid City, SD.
"This is amazing," Klooz said, "it is an honor to serve the children and communities of South Dakota. We really couldn't have accomplished so much and helped so many without the support of others."
Pictured left to right is Virginia Wishard Lambert, Abbott House Development Director, Eric Klooz, Abbott House Executive Director, and Stephanie Judson, SDCF President and CEO.
---
Last Modified: