Abbott House
For over 80 years, Abbott House has devoted our work to providing transformative therapeutic support services for the betterment of youth across the state of South Dakota. Helping youth, ages seven to twenty-three, overcome obstacles posed by trauma, abuse, neglect, and behavioral disorders, our work at Abbott House represents an eternal beacon of light and support for those who've faced the unimaginable. Offering residential treatment, therapeutic foster care, and independent living resources to those we serve, we're on a mission to provide premier services for youth and their families that make a lasting impact.
Support Abbott House Today!
Abbott House relies on the ongoing support of donors to continue offering our life-changing services to youth across the state of South Dakota. From providing volunteering opportunities to material donations and financial contributions, your support ensures a brighter tomorrow and second chance at life for those we serve. No contribution is too little or too large.

Our Services
Based in Mitchell, SD and expanding to Rapid City, SD, the impact of our work is ever-growing as we scale to meet the growing needs of youth across the state.
| 2010 Outcomes and Impacts | 2021 Outcomes and Impacts |
| --- | --- |
| Served 43 children — 38 in the residential treatment program and 5 in foster care | Serve 109 children — 45 in the residential treatment program, 48 in foster care, 16 in Larson Independent Living Program |
| Owned the residential treatment center and one foster home | Own residential treatment center and 8 foster homes including 4 that also provide independent living apartments |
| Abbott House provided a total of $2-3,000 in scholarships for 2 or 3 alumni | Abbott House provided a total of $9,000 in scholarships for 8 alumni |
| The average length of stay is 3+ years | The average length of stay is 11.8 months |
| Served approximately 65-70 children annually | Served approximately 150 children annually |
The Impact of Abbott House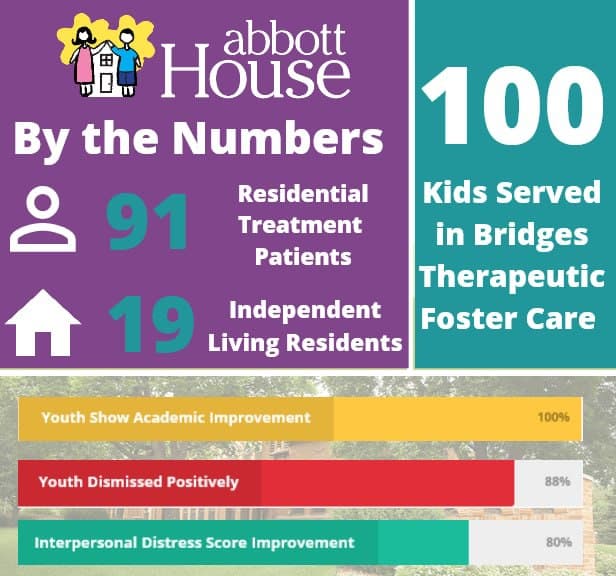 Courage, Achievement, and Harmony
A foundation for success
"I was given that door and that opportunity to say these are the things that happened to me; this is why I feel the way I am feeling, this is why I feel broken. I learned a lot of coping skills and DEFINITELY a lot of social skills. Abbott House provided me with the foster parents I have. I'm 100% convinced if I didn't come to Abbott House, I would be dead."
Cherokee, an Abbott House and Bridges by Abbott House Alum
"I didn't think I was good enough and I was comfortable with sadness. I deeply hated myself. Neurofeedback changed my life. I am a more comfortable person inside."
Latoya, an Abbott House Residential Treatment Alum
"They showed me what a family is even though all of the children came from different families," she said. "I had to learn how to tease in a fun way, a nice way. I had to learn how to interact with people differently."
Mikala, Abbott House alum
Our Work
Offering a clinical approach to treatment, Abbott House provides premier service to youth and families based on our core principles of ethics, nurturance, and excellence. We're committed to helping the youth we work with succeed and are continually evolving to develop new resources to ensure the better success of every person who walks through our doors.